Together, we have the power to create the change we want to see. These resources will help you be an informed voter in the next election.
Together, we have the power to create the change we want to see. These resources will help you be an informed voter in the next election.
How do I vote in my state?
Election day is Tuesday, November 3, 2020. There are three ways you can vote:
1. Vote by mail
2. Vote early
3. Vote on Election Day
Read more about each option below.
How do I vote early?
In some states, you can vote before Election Day by visiting an early voting location and picking up and/or dropping off your ballot. Check the rules in your state.
How do I vote by mail?
Voting by mail, like absentee voting, happens before election day. A ballot is mailed to your address and then you can return it either by mail or in person. It's a very safe and effective way to vote, and most states are allowing some form of vote by mail this year due to the pandemic. Many states require you to request a vote by mail ballot in advance of Election Day, so make sure you don't miss your deadline. Check the rules in your state.
How do I vote in person?
First, you need to register to vote. If you have already registered, you should check your voter status to make sure your name hasn't been purged from the rolls! (At least 17 million voters were purged nationwide between 2016 and 2018, according to a study by the Brennan Center). Once you're set with your registration, find your polling place where you will vote on Election Day, November 3. Make sure you also check the forms of ID that you are required to present in your state.
How do I vote during COVID-19?
The pandemic is evolving at different rates in every state, and each state is handling elections differently. Many states have decided to close polling locations or operate with reduced staff and volunteers due to safety concerns. Due to the pandemic, many states are making early voting or voting by mail more accessible. If your state allows it, voting by mail is a great option! You can check your state's most up-to-date information at vote.org/covid-19.
What's on my ballot?
In addition to the presidential election, there are thousands of positions and measures on the 2020 ballot! You can make informed choices by exploring every candidate and referendum on your ballot with the help from our friends at BallotReady.
How do I volunteer?
There are many different ways to volunteer during the elections, from working at the polls on election day to helping people register to vote. We're big fans of the volunteer opportunities at HeadCount, which help young people register to vote at concerts, festivals, and events. All you need is a positive attitude and a love of democracy!
Ballot Party Toolkit
Let's have some fun voting and voting early! Here's everything you'll need to throw the best Ballot Party ever, including your customizable invitation, social media images, and Zoom background. So gather your best party people (virtually, of course), get your ballot ready, and enjoy the film!
TUNE IN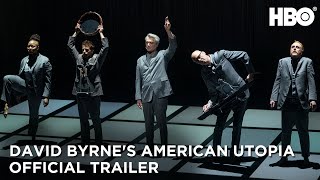 DAVID BYRNE'S AMERICAN UTOPIA, directed by Spike Lee, is a groundbreaking filmed version of the Broadway musical sensation that ran from October 2019 to February 2020. Hailed by the Hollywood Reporter as "pure bliss," the performance seamlessly reflects on important themes ranging from immigration to racial justice through a joyful celebration of music and dance. The film is a call to action to engage as citizens in our democracy: an invitation to reimagine our own utopias.
The film premiered at the Toronto International Film Festival on September 10, 2020, and is coming to HBO on October 17th.
Disclaimer
By entering my information below and clicking one of the above actions, I consent to the collection of my information by Participant Media and vote.org. I also consent to Participant Media's Privacy Policy and agree to its Terms of Use, which will govern its data collection and use, as well as consent to vote.org's Privacy Policy and agree to its Terms of Use, which will govern its data collection and use.
Social Assets
Click the cloud icon under each image below to download social assets.
Suggested social copy:
Join the #AUBallotParty and get excited about @voteearlyday! Get your ballot ready and dance to David Byrne's @americanutopia airing on @hbo on October 17! For more information, head to: www.myamericanutopia.com @participant
--
Click cloud icon above to access social assets including: FB, IG, & Twitter assets + Zoom Background
Suggested social copy:
Enjoy this #AUBallotParty Playlist from our friends @nonesuchrecords! https://open.spotify.com/playlist/6KqMx96HznMLRFtNzbTXhm?si=wMdsPcr8T4mEu9KLmsIUYQ @participant
--
Click cloud icon above to access square asset to promote the playlist.
Our Other Films
At Participant, we believe that a story well told can make a difference. JOHN LEWIS: GOOD TROUBLE, a documentary about one man's lifelong fight for voting rights, even when that meant getting in trouble. SLAY THE DRAGON shows us what it looks like when we the people decide to hold politicians accountable to the communities they serve. And DARK WATERS, a warning about what happens when corporations put profits over people - and how one individual can make a difference.